Technologies
Our Technologies and Patents
Our company DeepEyeVision has been using cutting-edge deep learning technologies to develop an "ocular fundus imaging diagnosis support
AI" that enables the early detection of diabetes and other systemic diseases as well as eye diseases.
DeepEyeVision Pro
Ocular fundus imaging diagnosis support AI
Since 2016, DeepEyeVision has been independently developing this AI-based ocular fundus imaging diagnosis
support system (for research and development) in cooperation with Jichi Medical University.
Based on images taken during ophthalmology medical examinations,
diagnosis candidates are proposed with probabilities.
This system is compatible with products from various medical device manufacturers in Japan,
and DeepEyeVision is continuing to conduct research and development with the aim of realizing a system
that can be applied to medical check-up images and remote diagnosis.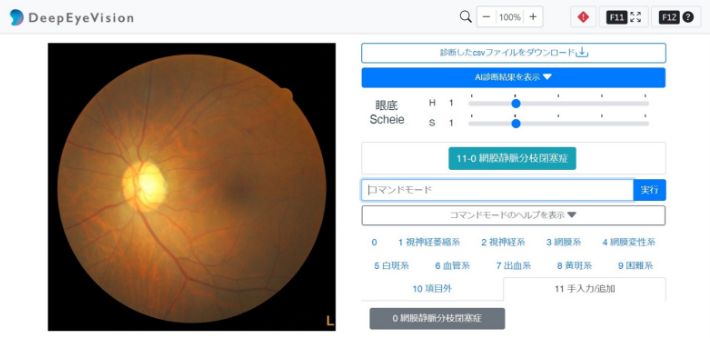 Remote image reading service that utilizes AI
Once a medical institution uploads an ocular fundus image to a cloud system,
the AI analyzes the image and displays candidate disease names to a DeepEyeVision reading doctor.
The reading doctor then makes a diagnosis by observing the original fundus image while referring
to the displayed disease names, after which the reading result is provided to the medical institution.
Introducing this remote image reading service to various medical institutions is expected
to have the following effects.
- The diagnosis results of reading doctors can be standardized to make variance extremely small,
and medical institutions' problem of a lack of fundus image reading doctors can be eliminated.
- Ophthalmology medical services will become sophisticated throughout Japan, including in remote areas,
and the possibility of early detection will increase for various kinds of diseases,
including diabetes and glaucoma, which are asymptomatic until the terminal stage.
Thanks to these effects, a reduction in medical costs nationwide is expected.